Local SEO is more important than ever and is part of every local company marketing strategy. More and more web users are using smartphones and tablets to surf the internet. The number of local search queries is increasing as mobile users perform local searches.
Search engines like Google and Bing are continually updating and improving their local rankings algorithm to deliver the most accurate and relevant search results possible.
The following five tips for local SEO give a brief introduction to the topic.
Local Ranking Strategies
1. Keyword Research and On-page Optimization
Choosing the right keywords is an important part of local search engine optimization. Businesses should first define the search terms that are sought by their audience. This will help the site reach as many potential customers as possible.
Quality is more important than quantity because users are looking for a specific service. On-page optimization includes optimizing title tags, meta-description, and content. However, you should optimize the website not only for search engines but also for people who visit.
2. Google Local Listings
It's no secret that a Google My Business Local Listing (formerly "Google Places") is essential to local search engine optimization. These entries usually occupy places in the top 10 search results for local searches. As a local company, you should make sure that there is a viable entry and optimize it (if necessary).
Many companies create an entry that they do not accurately create and maintain. When setting up a Google Local listing, it's important to share as much information as possible. Incomplete entries make it harder to place in the local search results. Taking the time to complete this will be worthwhile in the medium and long-term and users will be happy to get the vital information quickly.
Pictures and a detailed description is the alpha and omega of local SEO. The contact details (address, phone number, etc.) should be the same as on the website. The business hours of the company should not be missing either.
3. Online Reviews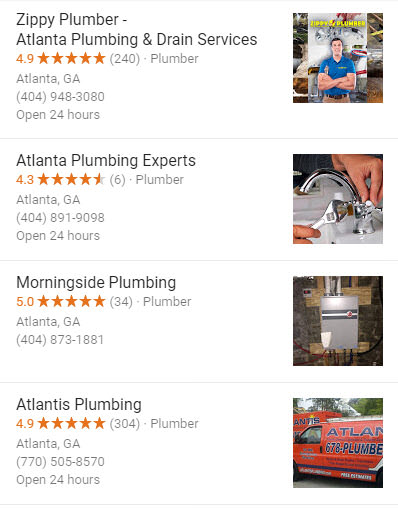 Local business pages allow customers to leave detailed reviews. Positive reviews on these sites and review portals such as yelp play an important role in local SEO and the company's online reputation.
Website owners should ask their readers/customers to leave a review. Satisfied customers are a huge help when trying to increase sales/business.
Some companies use displays, which provide them with a QR code that allows the customer to be redirected to the Google Local Business page and rate or leave a comment.
4. Local Citations & Business Directory Entries
Businesses with websites should have their company name, address, and telephone number listed somewhere on the site. This contact information has a positive effect on its local search engine optimization. You may hear webmasters refer to this contact information as a company's NAP (Name, Address & Phone number.)
Website owners should work to get their company's contact information listed on all the well-known business directories such as Apple Maps, Yellowbook, Google My Business, Yelp, etc. You should keep a list of all the directories (with login information), so updates can be made when the business details change.
5. Link Building and Social Signals
If you decide to build links to a website, you should proceed strategically. Link building is not prohibited but should be completely natural. If you offer a good product or are in a great location, guests/customers will naturally link themselves with you and recommend your business. It is a sustainable process where quality is more important than quantity.
Social media profiles like Facebook, Instagram, and Twitter should also be set up. In contrast to business directory entries, website owners should be present, make contact with their customers, and respond to questions. Some companies even use social media profiles for their customer service.
A company blog can be created to post articles that provide visitors with added value. Articles that have too strong of an advertising slant may be unpopular, but case-studies, customer stories, and how-to and problem-solving articles are great choices.
Summary of Local SEO Tips
To summarize, here are the five quickest ways to boost your local SEO game.
Optimize Your Website with the Right Keywords
Build Out Your Google My Business Page
Encourage Customers to Leave Online Reviews
Get Listed in Local Business Directories
Building Links and Social Signals
Anyone who perceives and implements these tips can win customers over the long term through the internet. Still, keep in mind that local SEO takes time to make visible achievements. In fact, to see a visible difference, it usually takes several months.